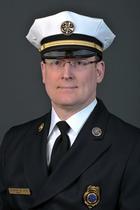 2019 Incidents
Jan
24
Feb
32
Mar
32
Apr
17
May
Jun
Jul
Aug
Sep
Oct
Nov
Dec
Total
105
Past Incidents
2018
460
2017
386
2016
367
2015
375
2014
387
2013
319
2012
251
2011
269
2010
251
2009
227
Total
3292
Web Counters
Website Visitors
Since
January 19, 2009

Visitors Today
Apr 24, 2019

---
Donate Online to the Gladwyne Fire Company!
Thank You Daisy Troop 721

Radio Room, April 11

We had some special visitors tonight at the firehouse! Olivia and Wynn from Daisy Troop 721 came to the firehouse to give the firefighters the "extra" cookies from their annual Girl Scout Cookie Sale.

We couldn't be happier that they chose us as their extra cookie landing spot.

While at the station, we gave them a tour and even issued them their own pink fire helmets.

Thanks again Olivia, Wynne ... (Full Story & Photos)



Engineer Dan, Olivia and Wynn from Daisy Troop 721


Gladwyne Firefighters Assist Upper Merion Township - Technical Rescue

Radio Room, February 19

Gladwyne Fire Company was dispatched shortly after 3pm today with Ladder 24 and manpower to assist Upper Merion Township with a Technical Rescue. Crews encounters an excavator that rolled over and trapped the operator partially in a hole that was being dug. Ladder 24 responded with 7 firefighters and upon arrival assisted at the scene for several hours.

After the rescue was complete, Ladder 24 stood ... (Full Story & Photos)


Wood Frame Building Construction Class

Radio Room, February 13

Firefighters from all 7 Lower Merion and Narberth Fire Companies gathered at Gladwyne to attend Montgomery County Fire Academy's Wood Frame Building Construction Class. The class was taught by Bud Henkels who owns his own construction business and is a volunteer firefighter.

The class was excellent and was very educational for the new members and even the experienced firefighters learned a thing ... (Full Story & Photos)

School Bus Fire

Radio Room, February 05

Gladwyne Firefighters were dispatched to a car fire this evening. Engine 24 responded just after the dispatch was over with a crew of 8. Upon arrival we found a Lower Merion Township School Bus with a small fire In the area of the engine (rear of the bus).

There were no kids on the bus and the driver exited the bus after getting it in park.

Gladwyne Firefighters shut off the CNG (compresses ... (Full Story & Photos)

Your feedback is important to us! Feel free to sign the guestbook.